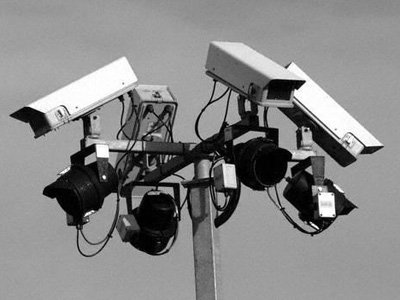 May 7, 2009
The Lagos State Government has installed about 90 Close Circuit Television (CCTV) cameras across the State to
protect life and property
as well as nab anyone who illegally uses the
Bus Rapid Transit (BRT) lane
.
Dr. Obafemi Hamzat, commissioner for Science and Technology, who disclosed this at a radio programme, added that the cameras have been used to arrest criminals who robbed a woman because the camera recorded the incident and the robbers were later arrested by the police because their pictures were captured.
Hamzat said Information Communication Technology (ICT) has been fully deployed by the State in carrying out many government activities in the area of health services, education, judicial process and obtaining of certificate of occupancy among others.
On the possibility of vandalising the camera, Hamzat said this cannot be too possible since the locations of the cameras are not known and due to the fact that the cameras monitor one another.
According to him, "if someone is trying to tamper with camera A, camera B is surely monitoring it. We will have what we call the
ring toplogy
, that is some will overlap, so that if camera A and B is checking a particular direction camera C and D will also be looking at 15 per cent same direction and 85 percent of somewhere else, so by that we have
an overlap
".
He informed that about 80 schools in the State have been provided with Information Communication Technology laboratories in order to give students in the State secondary schools an opportunity to interact with the outside world and at the same time improve their knowledge base. "In this regard, science base teachers have been trained on techniques for teaching science based subjects to facilitate assimilation", he said.
On the Health Management Information System (HMIS) introduced by the State Government, the commissioner stated that this will ensure the improvement of the quality of health care delivery services in the state.
He explained that with the development, the
registration of all patients in Lagos State Hospitals on a Central computer server will eliminate queues usually found in the medical record in all State hospitals and doctors will have access to patient's medical history anywhere within the state.
He said the first phase of the project started with 3 hospitals which were used for the pilot scheme.
The hospitals are Lagos State University Teaching Hospital, Ikeja; General Hospital Isolo and General Hospital Lagos.
The link of these hospitals has been commissioned
since last year while the second phase involving ten General Hospitals have commenced.
The hospitals on the second phase, according to him, include General Hospital Gbagada, General Hospital Alimosho, General Hospital Orile-Agege, General Hospital Surulere, General Hospital Badagry and General Hospital Ajeromi.